Jennifer Auld, Denturist at Swiss Denture Clinic Calgary:
"Dentures have been part of dental history for centuries. Yet, not all dentures are created equal. The Swiss Denture technique, backed by research, dedication, and an unwavering commitment to quality, stands out from the rest. Let's dive deeper into the world of Swiss Dentures and understand what makes them superior and why Swiss Denture Clinic in Calgary could be your go-to place for the dentures you want and need."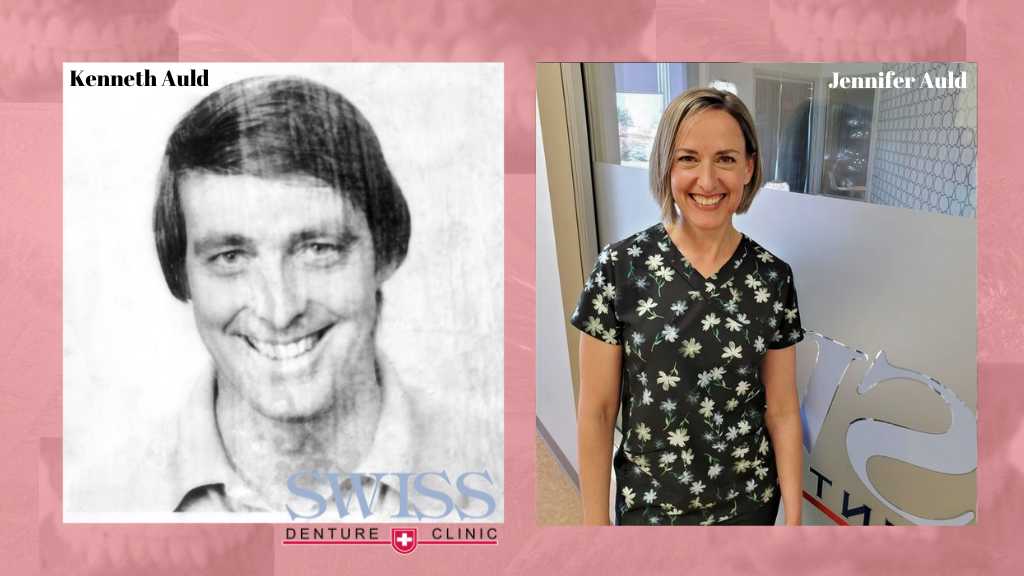 The History Behind the Swiss Denture Technique

Swiss Denture isn't merely a brand name; it's a symbol of excellence and precision in the world of dental prosthetics. The journey began in the 1950s with Dr. John P Frush. His objective was clear: he aimed to offer edentulous patients a solution that wasn't just functional but also closely mirrored natural teeth in appearance and feel.
What sets the Swiss Denture process apart from conventional methods is its emphasis on the patient's facial aesthetics. The process isn't just about filling the gaps left by missing teeth. It's about understanding the unique anatomy and features of each individual and ensuring the dentures enhance their natural look rather than alter it.

A Recognized Standard in Denture Functionality, Quality, and Affordability

Swiss Denture systems prioritize functionality, quality, while keeping our products affordable. Every denture is crafted with utmost precision and from high-grade materials. This ensures not just longevity but also a comfort level that's almost akin to having natural teeth. Unlike standard dentures, which can sometimes feel out of place or uncomfortable, Swiss Dentures are designed to be a part of you.

Reliability Like No Other

Over the decades, Swiss Dentures have built a reputation for reliability as well. This reputation isn't merely based on robust design or high-quality materials. The real secret lies in the technique. Each denture is personalized, which means it's designed keeping in mind the individual's oral structures, ensuring a snug fit and minimal chances of misalignment or other common denture-related problems.

The Legacy Continues

It's inspiring to note that the Swiss Denture legacy, which began with Dr. John P Frush, found its way to Calgary thanks to Kenneth Auld, a dental technician passionate about the Swiss Denture Concept. With passion and dedication, he traveled across North America to propagate this revolutionary technique. Today, under the expert guidance of Jennifer Auld, Swiss Denture Clinic continues to serve patients with the same dedication and commitment to excellence.

What to Expect?

When you step into Swiss Denture Clinic, you aren't just getting a set of dentures. You're becoming part of a legacy. The process begins with a comprehensive evaluation where the team takes into account your unique facial characteristics. This ensures that your dentures don't just fit well but also look natural, restoring your smile and confidence.

Quality at the Right Price

While Swiss Denture Clinic ensures premium quality, we also understand the importance of offering our services at a fair price point. It's a misconception that high quality always comes with an exorbitant price tag. At Swiss Denture, you're assured of a blend of excellence, personalization, and denture affordability.

Jennifer Auld, Denturist at Swiss Denture Clinic Calgary:
"The journey to a confident smile begins with the right choice. If you're considering dentures, it's vital to choose a clinic that doesn't see them merely as a dental appliance but as a life-changing solution that restores your smile and confidence. Swiss Denture Clinic in Calgary stands tall as a beacon of excellence in this regard. Don't settle for ordinary when you can have reliable and affordable quality dentures.

Make an appointment today and take the first step towards a brighter, more confident tomorrow."