Calgary Denturist Jennifer Auld at Swiss Denture Clinic:
"In the dynamic field of dental health, immediate dentures represent a remarkable advancement for individuals seeking prompt tooth replacement options. Let's take a closer look at this effective and efficient dental solution that's gaining popularity."

Immediate Dentures Demystified

Immediate dentures, readily available in the Calgary area, offer a unique advantage for those undergoing tooth extractions. These dentures diverge from traditional methods by being prepared in advance and inserted immediately after tooth removal, allowing patients to avoid the discomfort of a toothless period typically associated with the healing process.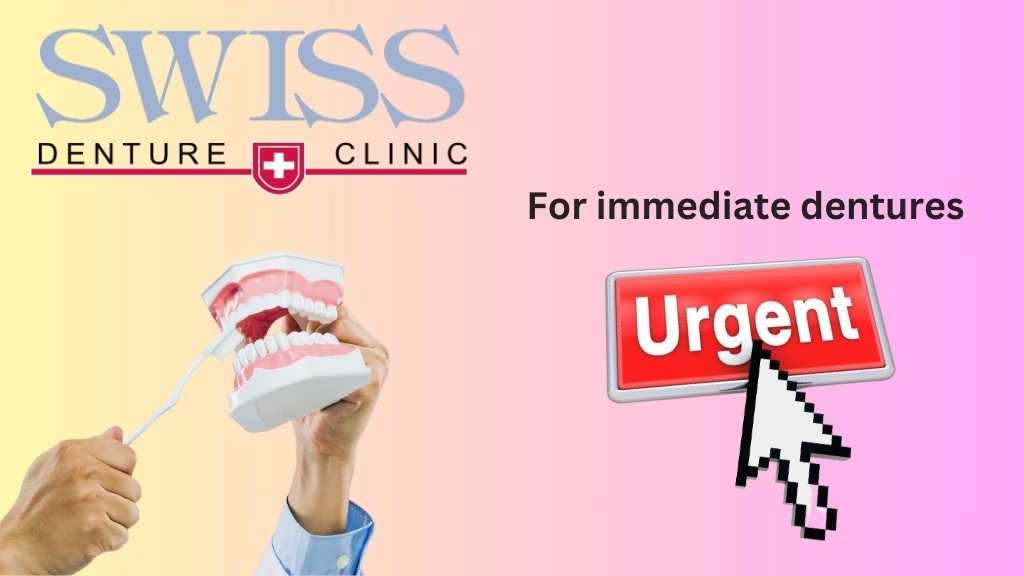 Motivations for Selecting Immediate Dentures

Cosmetic and Functional Integrity: Tooth loss can disrupt one's quality of life. Immediate dentures offer the benefit of preserving the natural function and aesthetics of one's smile instantly after teeth are removed. Safeguarding Tissue: Serving as a protective cover, immediate dentures can help control bleeding and protect delicate tissues after extraction. Customizable Comfort: As the mouth heals, immediate dentures can be fine-tuned for fit, resulting in a comfortable and effective long-term solution.

Benefits of Choosing Immediate Dentures

Instantaneous Results: Immediate dentures shine with their ability to deliver a full smile straight away after tooth extraction. Healing Facilitation: They act as a form of protection to the extraction areas, potentially curtailing bleeding and fostering a quicker recovery. Restored Self-Esteem: Patients often report a boost in confidence and comfort when they can immediately resume normal activities with a complete set of teeth. Simplified Adjustment: The process of adapting to dentures is often more manageable when the initial experience isn't marred by a period of edentulism.

The Investment in Immediate Dentures

While immediate dentures might be priced higher initially than traditional dentures, the cost is affected by various factors such as dental practice, denture material, and personalized patient requirements. However, the convenience and benefits they provide often justify the investment for most patients.

Getting Immediate Dentures in Calgary

Swiss Denture Clinic is renowned for providing high-quality immediate dentures to residents of Calgary and surrounding locales like Cochrane, Airdrie, Chestermere, Okotoks, and Bragg Creek. We invite you to schedule a no-cost consultation to discuss your immediate denture needs.

Swiss Denture Clinic: Your Choice for Immediate Dentures
Our clinic is recognized for:
Expert Denturists: At Swiss Dentures, the denturists combine expertise with a passion for delivering smiles that patients can cherish.
Top-Grade Materials: No compromises here—only the best materials are chosen to create durable, comfortable dentures.
Exacting Standards: We ensure that meticulous attention to detail goes into the crafting of every denture.
Understanding Patient Care: We empathize with the challenges that come with getting dentures and offer compassionate, knowledgeable care.
A Wise Investment: Quality immediate dentures are a smart long-term investment, often reducing future costs associated with adjustments and replacements.
Calgary Denturist Jennifer Auld at Swiss Denture Clinic:
"Immediate dentures are not just about immediate results; they're about preserving your smile and confidence without interruption. Swiss Dentures is dedicated to providing a streamlined and superior denture service. When you choose immediate dentures, you choose a future of smiling with certainty and pride."