By Denturist Jennifer Auld of Swiss Denture Clinic in Calgary
"Dental wellness has transformed with the advent of cutting-edge treatments and solutions. For those requiring quick tooth replacement, immediate dentures are a godsend. Delve with us into the essence of this dental service that combines convenience with quality."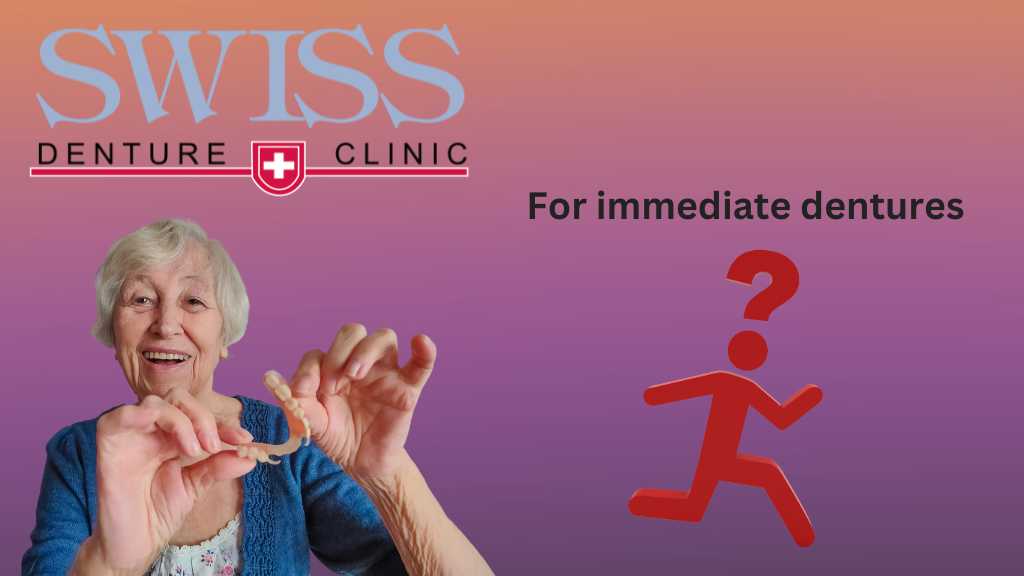 Exploring the World of Immediate Dentures

Immediate dentures in Calgary are specially designed prosthetics that are ready to be placed right after a patient's teeth are extracted. Diverging from the traditional path where patients wait for gums to heal post-extraction, immediate dentures are the go-to for those who prefer not to wait. They offer an uninterrupted dental experience during the healing process.

The Rationale Behind Choosing Immediate Dentures
Restorative and Cosmetic Appeal: The absence of teeth can interrupt daily life. Immediate dentures fill this gap immediately, facilitating unimpeded speech, eating, and the joy of smiling freely. Protective Function: By covering extraction sites, immediate dentures act as a barrier, reducing potential bleeding and aiding in tissue recovery. Fine-tuned Adjustability: Adjustments made to immediate dentures during healing ensure a more accurate and comfortable fit for long-term wear.

The Upside of Immediate Dentures
Immediate Satisfaction: The key benefit is their on-the-spot availability, which is invaluable for patients post-extraction. Healing Companion: Immediate dentures provide a protective effect over the surgical site, promoting a reduction in bleeding and supporting recovery. Confidence and Comfort Restored: The transition to daily life is considerably smoother and more comfortable with a full set of teeth, improving patients' self-esteem. Adaptation Advantage: Adapting to dentures often feels more natural when patients are spared the interim of a missing-tooth smile.

The Value of Immediate Dentures

Immediate dentures' cost can vary, but factors such as clinic location, denture materials, and individual patient circumstances come into play. The initial cost may be higher than that of regular dentures, but the advantages for many patients, especially the absence of a toothless phase, often tip the scales in favor of this investment.

Acquiring Immediate Dentures in Calgary

Swiss Denture Clinic stands as the premier choice for immediate dentures in Calgary and neighboring communities like Cochrane, Airdrie, Chestermere, Okotoks, and Bragg Creek. Consider scheduling a free consultation to explore your options.

Why Select Swiss Denture Clinic?

Swiss Denture Clinic's dedication to patient care is second to none, with unique offerings like:
Proficient Denturist Team: Swiss Dentures prides itself on denturists who bring a mix of expert craftsmanship and heartfelt dedication, ensuring patients leave with smiles they adore.
Superior Material Quality: The clinic uses only premium materials for creating dentures, aiming for lasting wear and ultimate comfort.
Precision-Crafted: Each denture is meticulously constructed with precision, for exceptional fit and appearance.
Compassionate Care: Recognizing the emotional and physical nuances of denture wear, Swiss Dentures provides services with the utmost care.
Worthwhile Investment: Opting for high-quality immediate dentures can mean fewer adjustments and replacements in the future, making it a prudent financial choice.
Denturist Jennifer Auld of Swiss Denture Clinic in Calgary
"Immediate dentures are more than just a dental solution; they're a commitment to maintaining your lifestyle and confidence even after tooth loss. At Swiss Dentures, we're devoted to facilitating a quick, high-quality transition to a beautiful smile. Invest in immediate dentures, and you invest in a future filled with confident smiles."