By Denturist Jennifer Auld at Swiss Denture Clinic
"The realm of dental health has evolved significantly, bringing forth innovative solutions for a myriad of dental concerns. Immediate dentures stand out as a swift and reliable option for those seeking tooth replacement without delay. Let's unpack the intricacies of this expedient dental solution."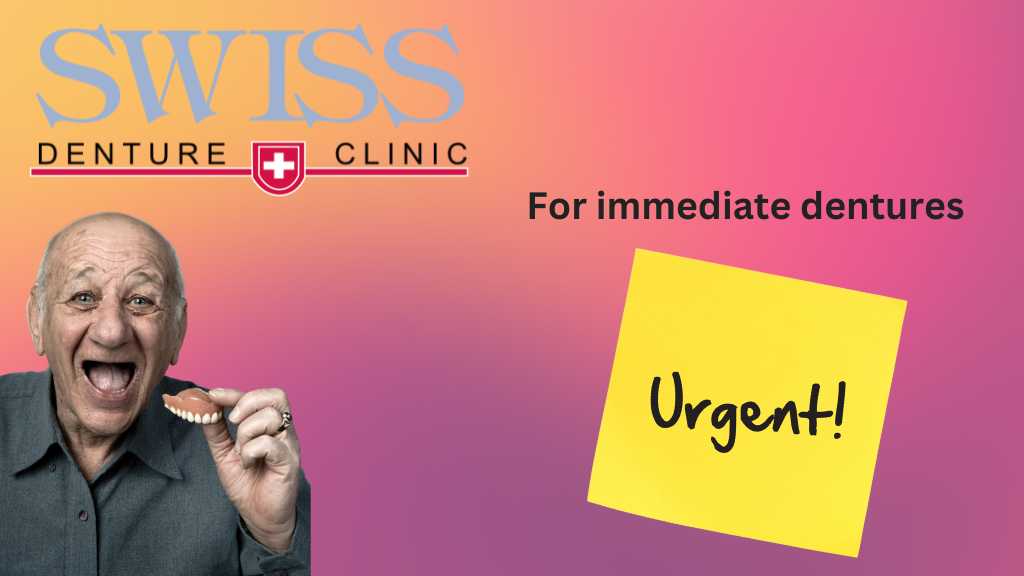 What Immediate Dentures Offer
Immediate dentures in Calgary offer a dental prosthesis solution that patients can receive directly following tooth extractions. Unlike standard dentures, which are typically fitted after the gums have completely healed, immediate dentures are crafted in advance and can be placed in the mouth immediately after teeth are removed. This process spares patients the discomfort and self-consciousness of a toothless healing period.

Why Opt for Immediate Dentures?

Aesthetic and Practical Benefits: The loss of teeth can significantly impact one's life. Immediate dentures offer a seamless transition, maintaining your ability to chew, speak, and smile without interruption. Protective Qualities: These dentures act as a shield for sensitive gums post-extraction, potentially reducing bleeding and discomfort. Optimized Fit: The ability to adjust immediate dentures during the healing process allows for a more tailored fit, which translates to enhanced comfort and functionality.

Advantages of Immediate Dentures

No Delay: The primary benefit of immediate dentures is their prompt availability, ensuring you leave the dentist's office with a full smile even after extractions. Healing Aid: They can function as a sort of bandage for the extraction sites, mitigating bleeding and aiding in the healing process. Confidence Booster: Many patients report an immediate increase in self-confidence and comfort when they can engage in daily activities with a complete set of teeth. Easier Acclimation: The transition to dentures can be more straightforward if patients aren't first accustomed to a toothless smile.

Investing in Immediate Dentures

The cost of immediate dentures can fluctuate based on the dental clinic, the quality of materials, and the patient's specific needs. Although they may come with a higher initial price tag than conventional dentures, the benefit of not enduring a toothless recovery often justifies the expense.

Where to Get Immediate Dentures in Calgary

For those near Calgary, including the areas of Cochrane, Airdrie, Chestermere, Okotoks, and Bragg Creek, Swiss Denture Clinic is the preferred provider of immediate dentures. Book a complimentary consultation to discover your options.

Why Trust Swiss Denture Clinic for Immediate Dentures?

The Swiss Denture Clinic is dedicated to excellence in patient satisfaction, as evidenced by:
Expertise in Denturism: The denturists at Swiss Dentures possess a blend of skill and passion, ensuring each patient achieves a smile they can take pride in.
High-Quality Materials: Compromise is not in their vocabulary—the clinic uses only the best materials to fabricate durable, comfortable dentures.
Detail-Oriented Approach: Precision in every step ensures outstanding results that patients love.
Empathetic Patient Care: The team at Swiss Dentures understands the complex emotions and challenges associated with dentures, providing care that is both thoughtful and comprehensive.
Smart Investment: Choosing quality immediate dentures is a wise long-term investment, potentially saving you from frequent adjustments or replacements down the line.

Calgary Denturist Jennifer Auld at Swiss Denture:
"Immediate dentures offer a way to preserve your smile's aesthetics and function straight after tooth extraction. At Swiss Dentures, we're committed to making sure your path to a radiant smile in Calgary is rapid, smooth, and crafted to the highest standards. Investing in immediate dentures is investing in a more confident and brighter tomorrow."