Denturist Calgary Jennifer Auld at Swiss Denture:
"Dental care and treatments have come a long way over the years, and in today's world, we have access to a multitude of solutions for various dental problems. One such option for those in need of tooth replacement is immediate dentures. Let's dive deep and understand more about this."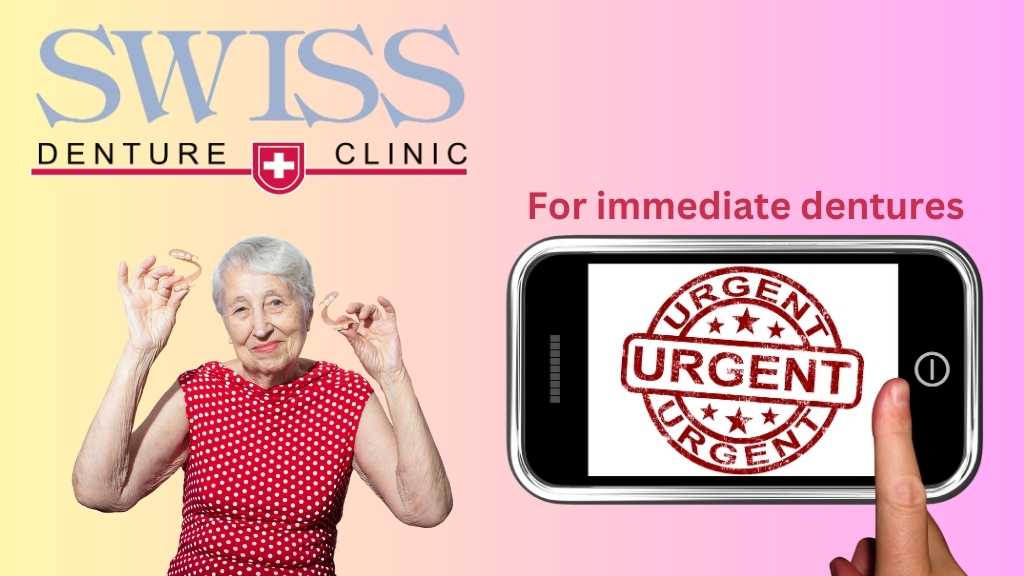 What are Immediate Dentures?
Immediate dentures Calgary are a type of dental prosthesis that is placed immediately following the extraction of natural teeth. Unlike conventional dentures which are prepared after the gums have healed post-extraction (which could take several weeks to months), immediate dentures are pre-made and inserted right after the tooth extraction procedure. This ensures that the patient doesn't have to go without teeth during the healing period.
Why Do People Consider Immediate Dentures?
Aesthetics and Functionality: Losing a tooth can be a daunting experience. Immediate dentures ensure that individuals do not have to face the world without their teeth, enabling them to eat, speak, and smile confidently.
Protection: They act as a protective layer, safeguarding the tissues and reducing the risk of bleeding post extraction.
Predictable Results: With immediate dentures, there's a better chance to make minor adjustments for fit and comfort as the mouth heals, ensuring a better long-term fit.
What are the Benefits of Immediate Dentures?
Immediate Results: As the name suggests, there's no waiting period. Right after extraction, you walk out with a set of teeth.
Facilitates Healing: They serve as a bandage to the extraction sites, which can help reduce bleeding.
Comfort and Confidence: Many patients feel more confident and comfortable facing their day-to-day activities with teeth rather than an empty mouth.
Ease of Transition: Adjusting to dentures can be easier when one doesn't have to adapt to being toothless first.
Are Immediate Dentures Costly?
The cost of immediate dentures can vary based on factors like the clinic, materials used, and specific patient needs. While they might be a bit more expensive than conventional dentures initially, many believe that the advantages, such as not being without teeth during the healing process, justify the cost.
Who Provides Immediate Dentures in Calgary?
For those in Calgary and its surrounding areas like Cochrane, Airdrie, Chestermere, Okotoks, and Bragg Creek, Swiss Dentures is the go-to destination for immediate dentures for many denture wearers. Make an appointment for a Free Consultation.
Why Swiss Dentures?
At Swiss Denture Clinic, the commitment to patient satisfaction is unwavering. Here's why:
Dedicated Denturists: The denturists at Swiss Dentures are not only skilled but also deeply committed to ensuring that every patient leaves with a smile they can genuinely be proud of.
Quality Materials: The clinic doesn't compromise on quality. Only the finest materials are used to craft the dentures, ensuring longevity and comfort.
Attention to Detail: The time, care, and precision that goes into each procedure ensures that the results are nothing short of perfect.
Empathic Patient Care: We understand the physical and emotional factors that are related to dentures. Our knowledge of both ensures treatment with care and dedication.
An Investment for the Future: Your smile is an invaluable investment. While many might look for cheaper alternatives, it's essential to understand that quality dental work, like the one provided by Swiss Dentures, can save money in the long run by reducing the need for frequent adjustments or replacements.

Denturist Calgary Jennifer Auld at Swiss Denture:
"Immediate dentures are a boon for those who wish to maintain their appearance and functionality even after tooth extraction. And if you're in Calgary, Swiss Dentures ensures that your journey towards a radiant smile is smooth, efficient, and of the highest quality. Investing in your smile today can lead to a brighter and more confident tomorrow."